Having a suitable, professional and well-equipped meeting room can significantly impact your meetings, whether you're meeting with clients, having team discussions, or giving essential presentations.
Now, imagine a space where everything is just right to make your business interactions more comfortable and effective. It's not just any room; it's an environment that can make your business dealings better.
Savvy Instant Offices offer an exclusive 10-seater luxury boardroom, where innovation meets sophistication, and your business aspiration take flight.

Why A Good Meeting Room Matters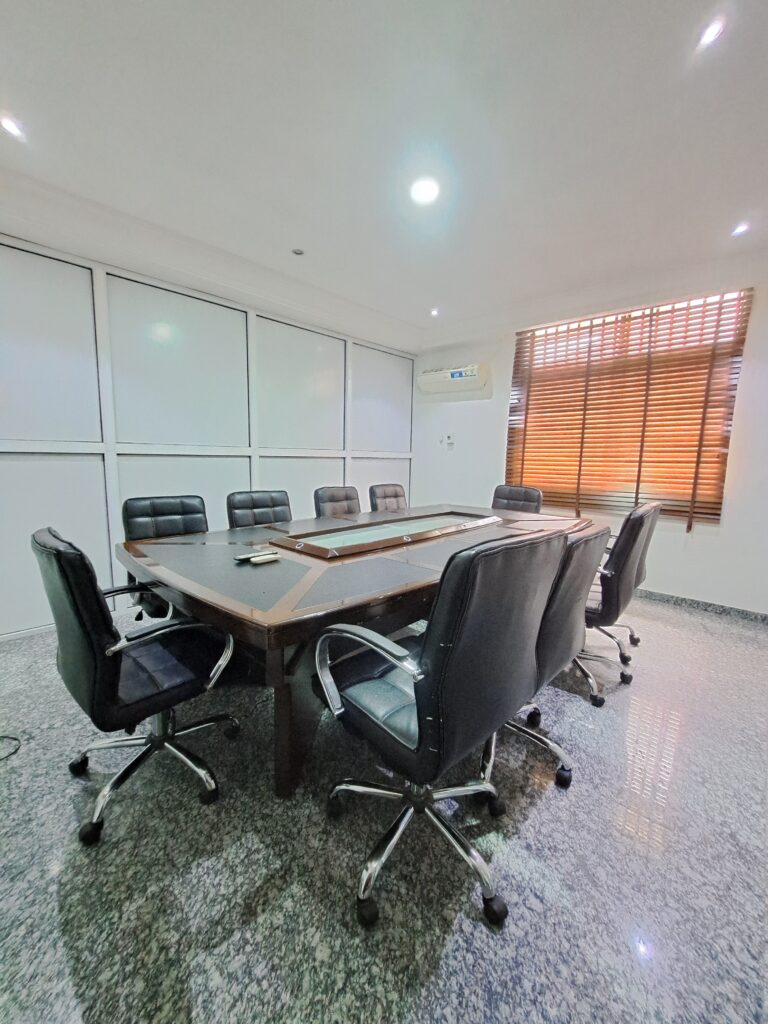 In the dynamic world of business, the location where you gather, share ideas, and collaborate is not a mere detail; it's a strategic choice that can profoundly impact your outcomes.
Our meeting room has been thoughtfully curated with the specific aim of elevating the success of your business activities. Let's delve deeper into why the selection of the right meeting space should be a carefully considered decision:
Professionalism:
Impressions are important. A well-designed meeting room creates a professional atmosphere that impresses your clients and colleagues.
Productivity:
The right setting can boost productivity. Our meeting room has all the tools you need for successful meetings, from audiovisual equipment to comfortable seating.
Versatility:
Whether you're giving a formal presentation, brainstorming, or meeting with clients, our meeting room can adapt to your needs.
Convenience:
Located at the heart of Abuja, Savvy Instant Offices is easy to reach for you and your clients, ensuring your meetings start on time.
Technology:
Stay connected and give great presentations with our top-notch audiovisual equipment and fast internet.
Comfort:
Comfortable chairs, good lighting, and a suitable atmosphere help keep everyone engaged during the meeting.
At Savvy Instant Offices, we know that the right meeting room can make a big difference in your business. We aim to provide a space that not only meet your needs but also goes beyond your expectations. It's where you can bring your ideas to life, turn decisions into actions, and give your business the ideal environment to succeed.
Why Choose Savvy's Luxury 10-Seater Boardroom
1. Premium Amenities:
Our boardroom comes fully equipped with essential amenities like a dedicated TV for projection, a marker board for collaborative brainstorming sessions, and high-speed internet connectivity to ensure seamless presentations.
2. Spacious and Comfortable:
With ample space for up to 10 individuals, you can conduct meetings comfortably without feeling cramped. Our ergonomic chairs and bright lighting create a conducive environment for productive discussions.
3. Central Location:
Savvy Instant Offices is strategically located in Wuse 2 Abuja, providing easy access for both you and your clients. Our central location ensures that your meetings are convenient and hassle-free.
Flexible Booking Options:
We understand that every meeting is unique. That's why we offer flexible booking options, allowing you to reserve our boardroom for the duration that suits your needs, whether it's a brief presentation or an all-day workshop.
How to Book Our 10-Seater Luxury Boardroom
Booking our luxurious boardroom is a straightforward process:
The first and most convenient option for you is to put a call through to us; this way, we can simply prepare you an invoice to with the necessarily details of your meeting.
Another option is for you to visit our facility both for inspection and to process your bookings.
On the day of your meeting, arrive at Savvy Instant Offices, and our friendly staff will ensure everything is set up according to your requirements.
If you need to familiarize yourself with other services that we offer, feel free to visit our website at www.savvyinstantoffices.com. From there, you can browse other services we offer like Virtual Office subscription, Training Hall, Office spaces and more.
By choosing Savvy Instant Offices for your meetings in Abuja, you're not just booking a room; you're investing in an exceptional meeting experience designed to enhance your business interactions. Book our 10-seater luxury boardroom today and unlock a new level of productivity and professionalism for your meetings.