The way people work has changed significantly in recent times. With the rise of entrepreneurship, freelancing, and remote work, there is now a fast-rising demand for collaborative and flexible workspaces. In the capital city of Nigeria, this trend is not uncommon rather it is quite popular among freelancers.
Abuja is now home to a rapidly increasing scene of co-working spaces, which serves the needs of business startups, freelancers, and professionals seeking a collaborative environment. This article will explore seven of the top co-working spaces in Abuja that you can try out.
7 Top Co-working Spaces in Abuja
1. Savvy Instant Offices
For obvious reasons, Savvy Instant Offices (SIO) makes the top of our list. SIO is a flexible and professional co-working space that aims to deliver world-class customer service with a touch of business excellence.
They provide members with an environment that encourages job creation and boosts economic growth. In this space, entrepreneurs and business collaborators are provided a substitute for the traditional office, at an affordable fee.

Features:
High-speed internet connection
Access to boardroom and video conferencing rooms
Cost efficient
Corporate desks
Pricing:
Co-working: 4500 naira per day
Executive office: 25000 naira per day
Boardroom: 60000 naira per day
Training room: 80000 naira per day
Virtual office: 99000 naira per day
Location:
22 Kumasi Crescent, Wuse 2, Abuja.
You can find more information on the savvyinstantoffices.com/website.
2. Ventures Platform Hub
Ventures Platform Hub is not only one of the front-runners in the co-working space, but they are an organization that provides early-stage funding to African entrepreneurs who have innovative ideas to improve the lives of people in Africa, especially those in underserved communities.
They do this by creating cost-effective solutions and connecting people while addressing important problems. This makes this organization one of the most sought-after co-working spaces in the city.
Features:
Vibrant and collaborative environment
High-speed internet
Well-designed workspace with proper equipment
Location:
Abuja No 5, Kwaji Close, Maitama.
3. LeadSpace
LeadSpace has stamped its mark in the co-working industry with several locations across the country. In Abuja, they offer an ideal space for entrepreneurs, freelancers, and startups.
Their co-working spaces come equipped with high-speed internet, meeting rooms, and a collaborative atmosphere that fosters creativity and productivity. LeadSpace is committed to providing an environment where businesses can thrive, making it an excellent choice for anyone seeking a co-working space in Abuja.
4. Welcome2Africa International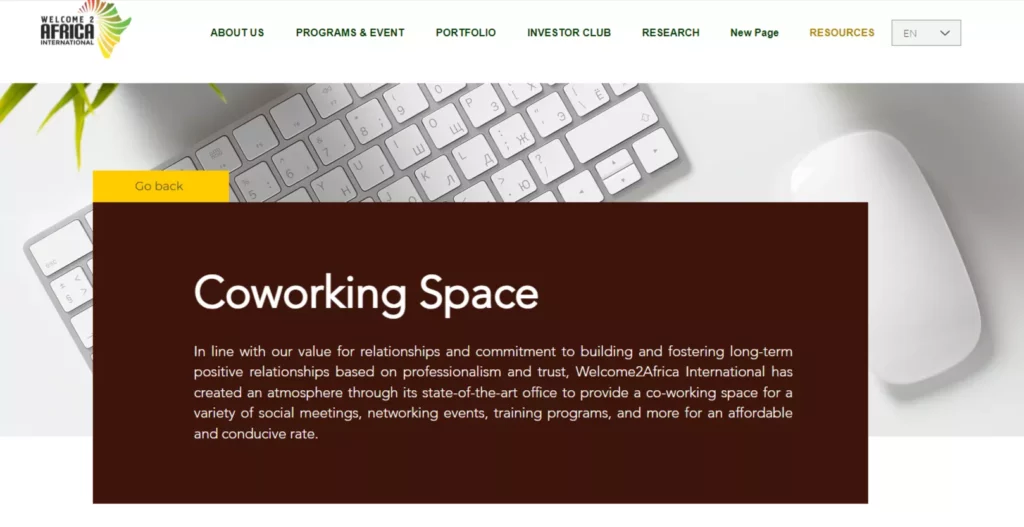 Welcome2Africa is a hub for Abuja's creative minds and professionals. This co-working space is designed to inspire and encourage collaboration among its members.
With comfortable workspaces, high-speed internet, and a focus on fostering innovation, Welcome2Africa is a perfect place to turn your ideas into reality. They also host events and workshops that offer opportunities for skill development and networking.
Office hours from Monday-Friday are from 12 am to 6 pm. Saturdays and Sundays are closed.
Features:
Access to standard office equipment.
Access to a well-stocked kitchen
Great habitable conditions
Pricing:
Their plans range from N5000 to N95000 yearly.
Location:
7 Dakala Street, Abuja, Nigeria (No 7 Dakala Street, Off Parakou Street).
5. Tongston Hub
With a prime location in the heart of Abuja's business district, this co-working space provides members with a productive and aesthetically pleasing environment. Whether you're a solo entrepreneur or part of a small team, Tongston Hub offers flexible membership plans, private offices, and meeting rooms to meet your needs. The space is known for its attention to detail and top-notch facilities, making it a preferred choice for many professionals.
Features:
Easy accessibility to the city
Great community to network with
Standard office equipment
Pricing:
Plans range from N2800 per hour to N31320 per month
Location:
16 Emeka Anyaoku Street, Abuja, Nigeria.
6. Musterpoint Coworking Space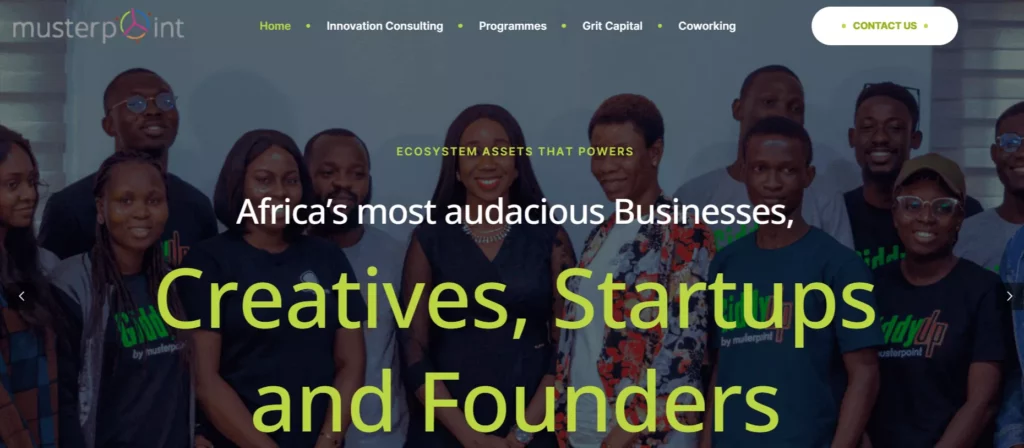 MusterPoint Coworking Space is another top co-working space for professionals in Abuja. It is designed to meet the needs of entrepreneurs, freelancers, and small businesses. With a comfortable and productive work environment, high-speed internet, and various membership options, MusterPoint has become a go-to destination for those seeking a collaborative workspace.
Features:
Easy accessibility
Great habitable conditions
Good working conditions
Collaborative environment
High-speed internet
Pricing:
Plans range from N8000 per month to N400k per month
Location:
Ambassador Albert Osakwe House, Inner Block Street, Abuja.
7. Regus Co-working Space
Regus offers a tranquil and productive environment for professionals, freelancers, and entrepreneurs. Members benefit from high-speed internet, meeting rooms, and even an in-house cafe for those much-needed coffee breaks. Regus' commitment to providing a conducive work atmosphere has made it a popular choice among Abuja's working professionals.
Features:
Easy accessibility
Provides a good working environment
Standard equipped office
Pricing:
Plans range from N8900 per day to N59900 per month
Location:
4th Floor, Tower C, Churchgate Plaza AO Cadastral Zone, Constitution Ave, Central Business Dis 900211, Abuja, Federal Capital Territory.
Bottom Line
Abuja has seen a rise in diverse co-working spaces, catering to entrepreneurs, freelancers, and professionals. From Ventures Platform Hub's dynamic atmosphere to Regus' professional setting and, of course, Savvy Instant Offices' flexible workspace community, there's a space for everyone.
These co-working hubs are vital for fostering innovation, collaboration, and growth as Abuja's business landscape evolves. If you're in Abuja and need a co-working space, you'll find the perfect fit among these options.